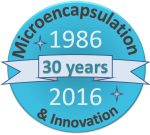 30 years experience in microencapsulation for textiles cosmetics fragrances
Expert in microencapsulation, EURACLI has developed an innovative know-how for the encapsulation of perfumes, oils, cosmetic active ingredients, pigments, biocides … Microencapsulation solutions from Euracli meet the needs of many sectors: olfactory printing and advertising, marketing, perfumery, cosmetology, textiles, food, hygiene … EURACLI accompanies its clients in their projects, from research to industrialization.
EURACLI
Innovation and Encapsulation
EURACLI a mis au point un savoir-faire approfondi pour encapsuler des principes actifs et maîtriser leur libération. Découvrez en vidéo comment des microcapsules cosmétiques peuvent optimiser l'efficacité des produits de soin...
read more